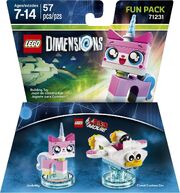 Fun Packs are the smallest expansion packs for LEGO Dimensions. They each contain one minifigure and one vehicle or gadget.
Known Fun Packs
Trivia
71251 Fun Pack and 71257 Fun Pack are the only fun packs to include playable in-game characters that aren't physical minifigures for the game.
Ad blocker interference detected!
Wikia is a free-to-use site that makes money from advertising. We have a modified experience for viewers using ad blockers

Wikia is not accessible if you've made further modifications. Remove the custom ad blocker rule(s) and the page will load as expected.