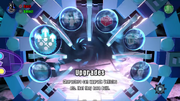 The LEGO Gateway Menu is a menu you can open when you enter the LEGO Gateway which lets you choose 6 different things: Level Select, Upgrades, Characters, Red Brick Unlocks, Minikit Viewer and Extras.
Menus
The Level Select allows you to choose and free play both story missions along with levels from Level Packs, and any adventure world.
Upgrades allows you to upgrade any vehicle you have unlocked.
Characters allows you to see each character and their ability, along with the vehicle/gadget that they come packaged with.
Red Brick Unlocks allows you to see any Extras that you have unlocked with Red Bricks, or have yet to purchase.
Minikit Viewer allows you to view what you have built using mini kits collected from any level.
Extras allows you to view in game hints and tutorial advice to help you play the game.
Trivia
Ad blocker interference detected!
Wikia is a free-to-use site that makes money from advertising. We have a modified experience for viewers using ad blockers

Wikia is not accessible if you've made further modifications. Remove the custom ad blocker rule(s) and the page will load as expected.