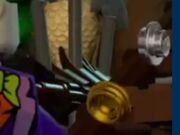 Studs
are the main currency used in
LEGO Dimensions
. They function as collectible currency.
Types and value
Silver: 10
Gold: 100
Blue: 1,000
Purple: 10,000
Trivia
The designs of the studs have relatively kept the same design since LEGO Star Wars: The Video Game (2005), which was their debut, but purple studs weren't introduced as regular studs until LEGO Indiana Jones (2007). Then, their design was slightly changed in LEGO The Hobbit, which makes them appear shinier than normal, while retaining their normal animation. The blue and purple studs looked the same regardless.

LEGO Jurassic World (2015) uses the original stud design.

When the player is in the Sonic the Hedgehog adventure world, the level from the 71244 Level Pack or have the Ring-a-Ding-Ding Extra enabled, studs will be replaced by rings. This is mostly due to rings being a main currency in Sonic the Hedgehog.

The ring chime is also heard when a ring is collected.
Ad blocker interference detected!
Wikia is a free-to-use site that makes money from advertising. We have a modified experience for viewers using ad blockers

Wikia is not accessible if you've made further modifications. Remove the custom ad blocker rule(s) and the page will load as expected.